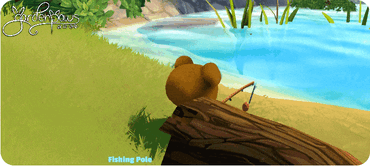 Fishing is one of the many activities that the player can spend their day doing. From soggy paper all the way to jellyfish, there is a range of different items that the player can catch. 
Obtaining
Edit
In order to catch a variety of fish, the player needs a Fishing Pole or a Fishing Trap.
Using the fishing pole, bait needs to be in the player's inventory to start fishing.

Wait until something bites, and click on the icon that appears on the screen to catch it.
Being unable to click the icon in time results in the fish getting away.
Bait is consumed each time a fish bites.
Using a fishing trap, the player needs to set bait in the trap.
To catch a variety of shellfish, the player needs a Shellfish Trap.
Using a shellfish trap, the player needs to set shellfish bait in the trap.
For both traps:
Leave the trap alone until something bites.
A "bubbly" animation occurs when something is caught.
Simply pick up the trap to obtain what was caught.
All fish and items found below can be caught through one of the methods mentioned above.
ShellfishEdit